1. You will need the following supplies.
Empty Oatmeal tube
Fleece- 24 inches long by 18 inches wide
thread to match
rope, braided fleece or plastic chain to hang tube from
sticky velcro tabs (if you want to make it removable for washing)
needle or sewing machine.
scissors
2. REMOVE THE BOTTOM FROM YOUR CONTAINER. I use scissors to poke holes around the edges abou 2 inches apart.Then you can easially push the bottom cardboard out without having to cut it.
3. MEASURE AND CUT your fleece so it is 24 by 18 inches.
Double check by placing the container on top and stretch the fleece over it.
You will need double the length plus at least 2 inches to add velcro,
and 18 inches is plenty on the width.

NO SEW CORNER SHELF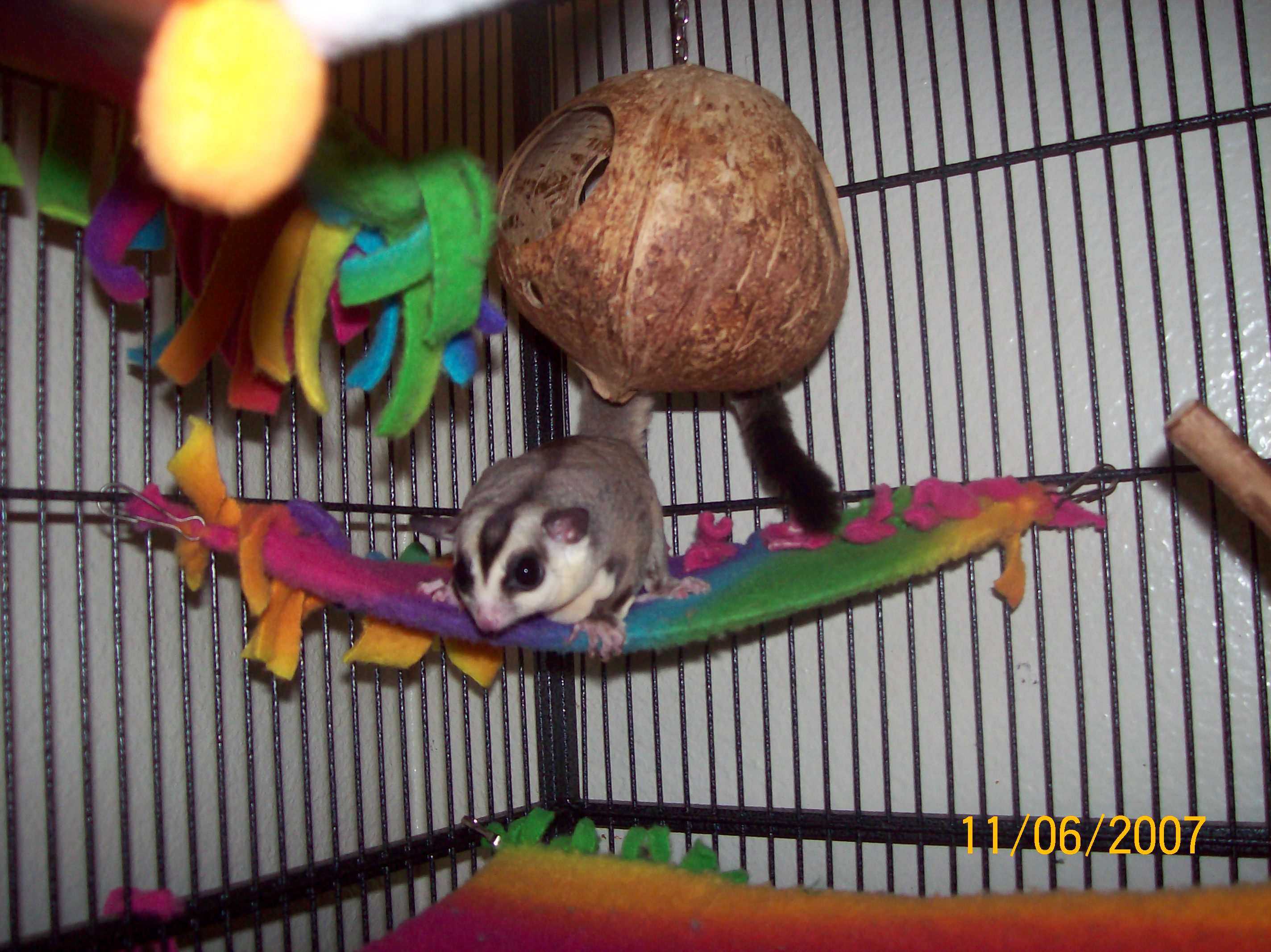 YOU WILL NEED THE FOLLOWING SUPPLIES:
fleece square APPROX 24 INCH SQUARE
Quick count plastic mesh canvas (one rectangle makes 2 corner shelves)
scissors
cage clips (optional)
CUT your triangle to fit the corner of your cage. If your cage is square or rectangle, there may not be need to measure,these triangles should fit.
Typically folding the rectangle down diagionally and cutting off the bottom 2 inch peice will give you a perfact square.
Keeping the square folded, mark the center and cut along the diagonal center line. This will give you 2 triangles.
Place plastic triangle onto the corner of the square material leaving about 1-2 inches on top 2 corners.(the larger the space, the longer the fringe will be)
Fold the bottom of the square up snugly and match the top ends together making sure the bottom edge is securely against the mesh and the overhang is on the top two sides only.

Trampoline swing supplies
Plastic Embroidery hoop (you can get these at walmart or craft stores)
Use the inside hoop, or follow directions below to use outer hoop.
Fleece fabric
Scissors
Shower Curtain ring
Outer Hoop instructions
(to prevent injury)
Unscrew and remove the medal screw
that makes the hoop bigger, then remove the pin.
Put small zip tie through the hole and secure.
Cut excess off.
1. Place fleece right side up on your work surface.
(fleece should be minimum 2 inches larger than hoop on all sides)
2. Fold in half
3. Place hoop on top
4. Trace the hoop lightly on wrong side of fleece
5. Cut a circle through both layers at least 2 inches larger than your hoop.
6. Cut slits 1/2 to 3/4 inch wide from the outside edge
up to the circle you drew all the way around making fringed edges
7. Turn right side out and place hoop in the center
8. Begin tying the top and bottom fringe together.
9. I begin tying one on on top and on each side to keep the hoop from falling out.
10. Tie the remaining fringe.