WHAT BIG EYES YOU HAVE...
bright light can hurt your gliders eyes, so think of Gizmo from the movie "GREMILINS" and avoid those Bright Lights!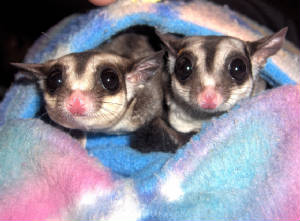 Diva and Sydney belong to thegliderteen
WHAT BIG EARS ...
Joeys like Diva, pictured below, develop super-sized ears that they have to grow into. How adorable are they at this stage? Miss Diva, is also in the photo above on the left next to her sister, Sydney. As you can see, she DID grow into her ears.
You have to love Joey ears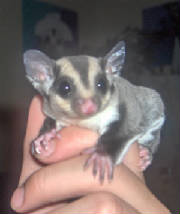 Diva at 6 weeks OOP
What BIG teeth you have
Gliders have long sharp teeth in the bottom and cute buck teeth on the top as seen in the photos. They use their long teeth to break open the bark in the trees to get to the sap. Sugar Gliders chew with their back teeth and only swallow the juice, and spit out the rest in half moon shaped peices.
Gliders make a cute chirping noise when they are eating something they enjoy.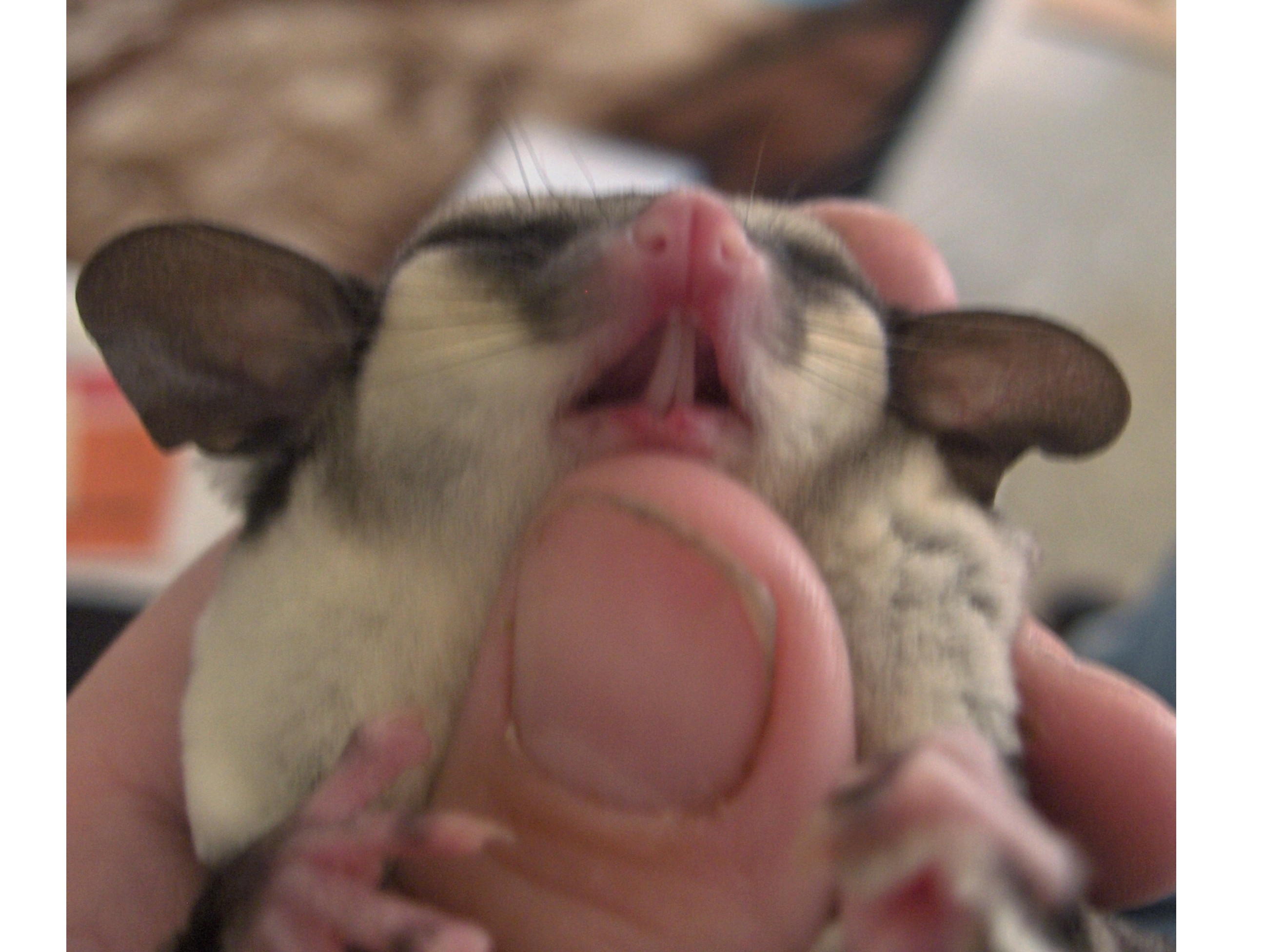 Diva belongs to shesadiva2 & thegliderlady
WHAT A LONG TAIL YOU HAVE
Sugar Gliders have a SEMI-PREHENSILE TAIL. This means they can use their tail to carry light things but can't hang by it like a possum. Never hold a glider by its tail. As our good friend Cy says, Save that for the tigers.
In this photo Savannah is holding a small rope in her tail. It is an amazing thing to watch. Their tail hardens around the object and actually can become tied in a knot. Never try to untie or pull a gliders tail. If this happens just wait it out and the tail will relax on its own. If it does not, consult your vet!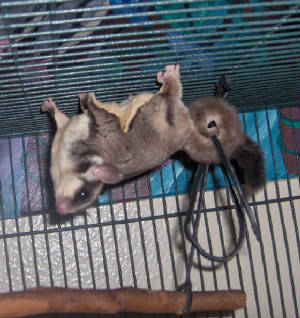 Savannah using her tail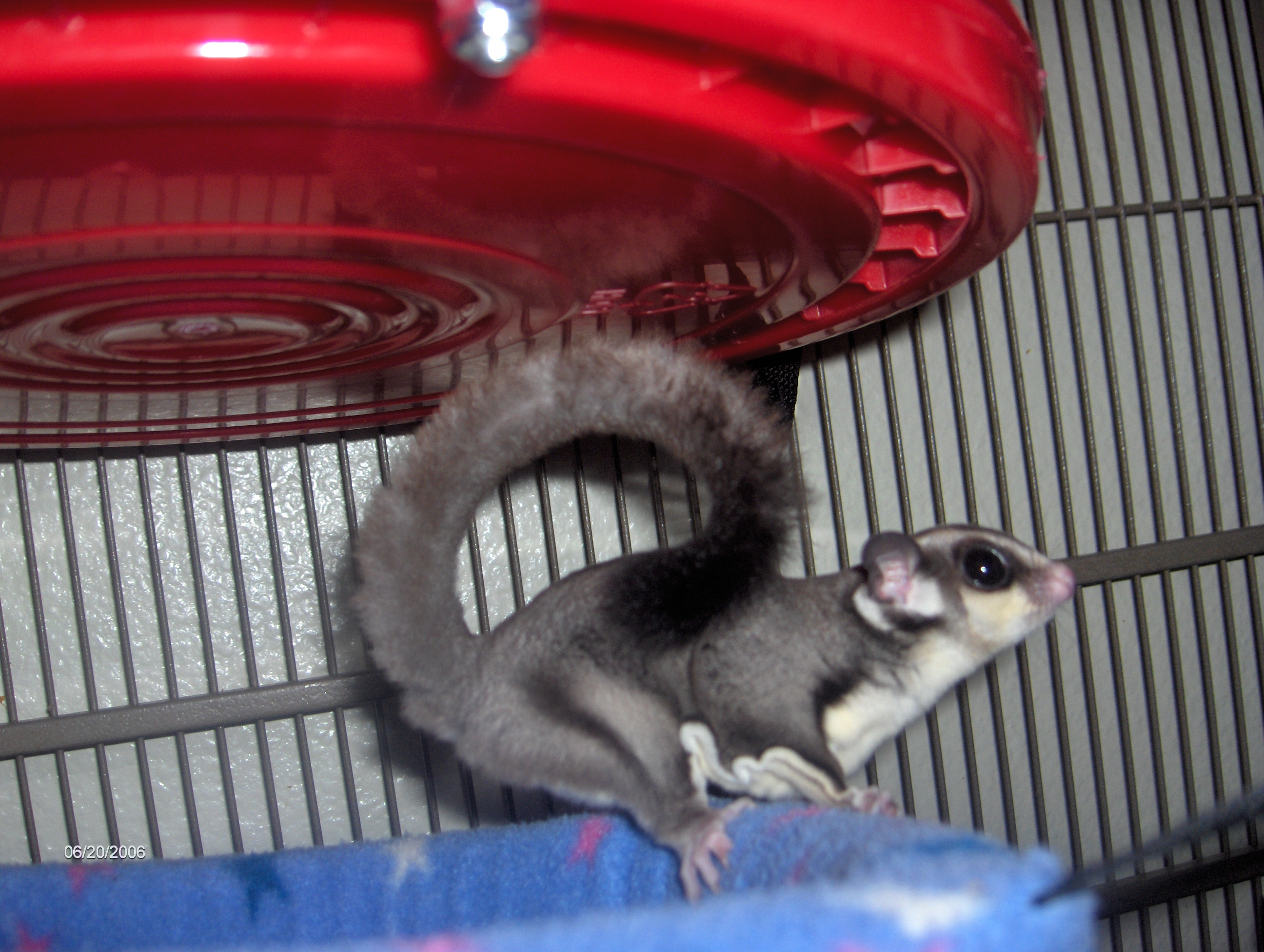 Sydney always has her tail up like this
This is Sydney also known as Sidda-roo. She is a very happy girl who "wears" her tail. Most gliders will hold their tails high and relaxed when they are happy. Sydney ALWAYS has her tail up and over her back. It is quite a site. Sydney and Diva belong to thegliderlady's daughter.
Look at Muras toes.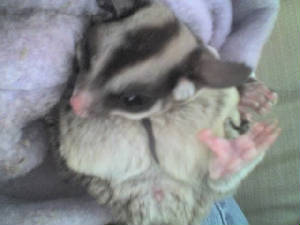 Mura has a tail peeking from her pouch
What Tiny toes you have...
On their feet they have a "toe thumb." This adorable thumb does not have a nail and it comes in handy when they are holding onto branches.

Giders eyes may look black but are actually dark brown, or even red in the Albino and Creamino colors. As you can tell from their large eyes, Gliders are nocternal which means they are most active at night and sleep during the day.
Gliders need large ears and super hearing to avoid the many predators that include gliders in their favorite foods list.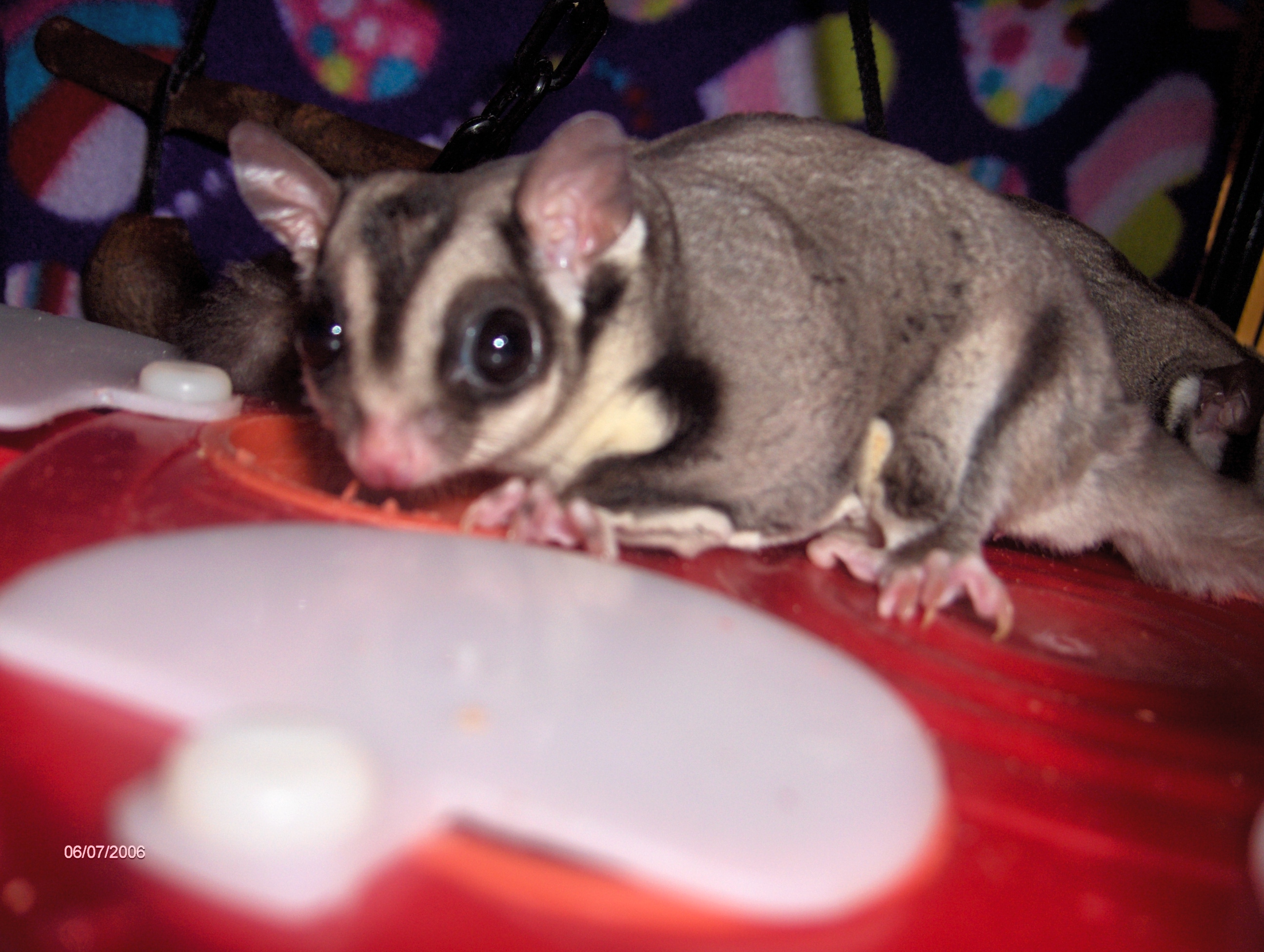 Cinnabon belongs to Eric (thegliderlady's son)
Gliders use their hands in much the same way we do. They have 5 fingers just like us. It is fun to watch them use their hands to eat and hold things.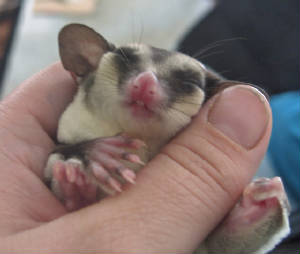 Savannah belongs to thegliderlady
WATCH OUT GENE SIMMONS (from KISS)...LOOK AT THAT TONGUE
Everything has its purpose. Gliders have a long tongue so they can lick the sap out of the trees they live in (in the wild). Gliders love to lick things so offer Licky treats like yogurt or honey and have them lick it off your finger. This is a GREAT bonding tool.
Ash's tip on how to be the Perfect Husband..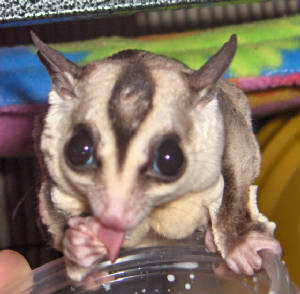 Know when to hold your tongue.
If you are wondering why Ash and Cinnabon seem to be having a BAD HAIR DAY, there is a reason. Male Sugar gliders have a "bald spot" which is larger on non-neutered males. This bald spot is not an aging issue, and he is not really going bald. It is actually a result of a scent gland located both on the head (and chest) of the males. They use their scent to mark their living area, and their families.So if your glider rubs his head or chest on you, take it as a compliment and know you belong to him!
MORE ABOUT MARKING... Sugar gliders not only "mark their territory" by rubbing with their scent glands, they also urinate and produce a scent much stronger than their normal urine to "mark" with. Gliders mark their humans often. Even if you teach your glider to "potty" before you hold them, they will mark you. This is not part of their elimination process, and completely normal. Males do have a much stronger scent than females.
The tail and foot are a joey in the pouch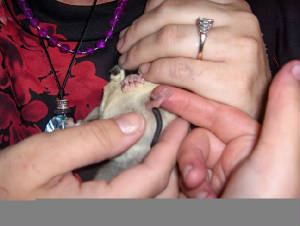 You can really see their toe thumb here
They use their feet in amazing ways. The second and third toes are connected tightly together. Often called a "grooming claw" they use their feet to brush their fur and catch any forign objects between these two nails, which they will then lick out and continue their grooming.
In this photo, the foot that is holding the gliderlady's finger from inside the pouch belongs to a Diva, before she was born, or OOP (out of pouch)


IS IT A GIRL OR A BOY?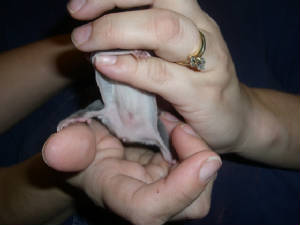 This is Sally. In this picture you can see the small verticle slit that is her pouch, and below that is the Cloaca in which the reproductive, urinary, and gastrointestinal tracts open. Often people will confuse the male and female joeys because they both have a cloaca which can seem quite swollen and can have a misleading appearance. Many have mistaken this for a penis.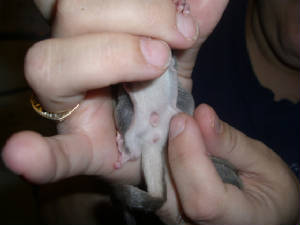 Above is Jack, who is Sally's twin brother. You can see his pink "pom-pom's" or testicles above his cloaca. Eventually they will look like his daddy's as seen below.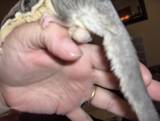 boy parts