This is Sydney being born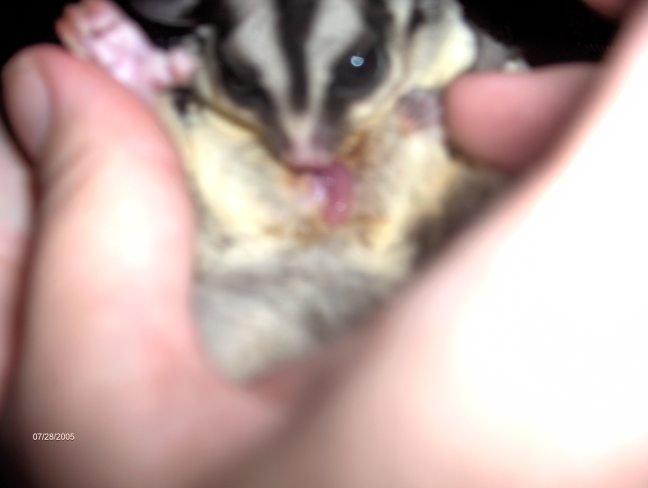 She is the pink jelly bean
Happy OOP day Sydney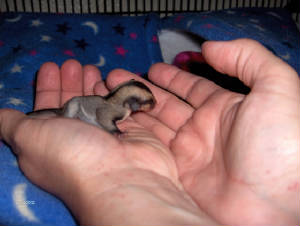 Sha has grown so much
Sugar Glider Joeys are born as tiny as a cooked grain of rice. They are pink, hairless and sticky with small arm buds and dark circles where their eyes will be. They crawl up a slippery path to the pouch that Mama has licked for them. If they leave this path, they can get stuck in Mama's fur and will likely die. This process takes only minutes. Once in pouch, they latch on to one of four nipples and their jaw will close around it. The nipple swells and the joey will not be able to latch back on if it lets go of the nipple. It takes about 80 days from birth to coming out of pouch.
Joeys rely on Moms milk for many weeks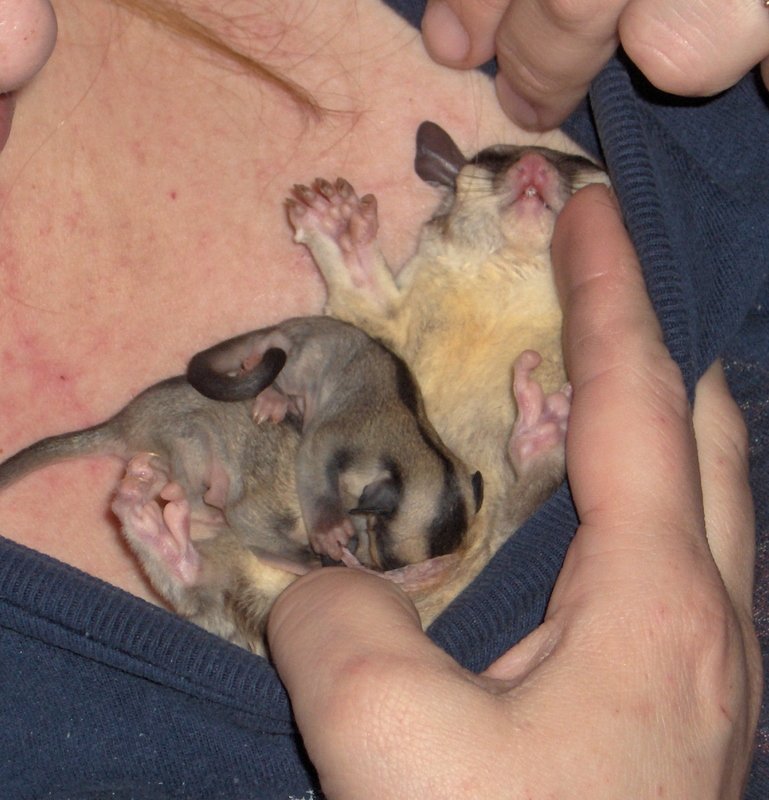 Eyes will open between 3 and 10 days OOP
Joey twins 3 days OOP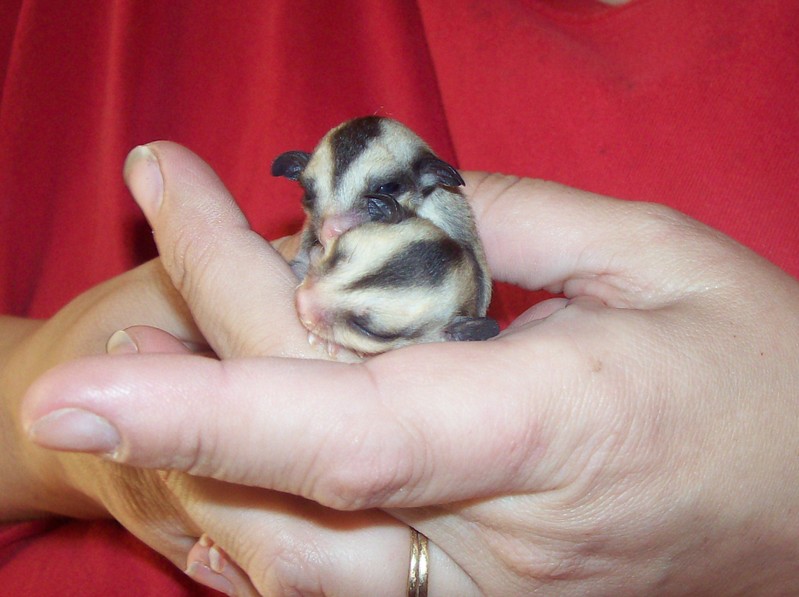 Eyes beginning to open
The joeys we have been blessed to have weigh about 16 grams on their first day out of pouch.
Joeys 12 days OOP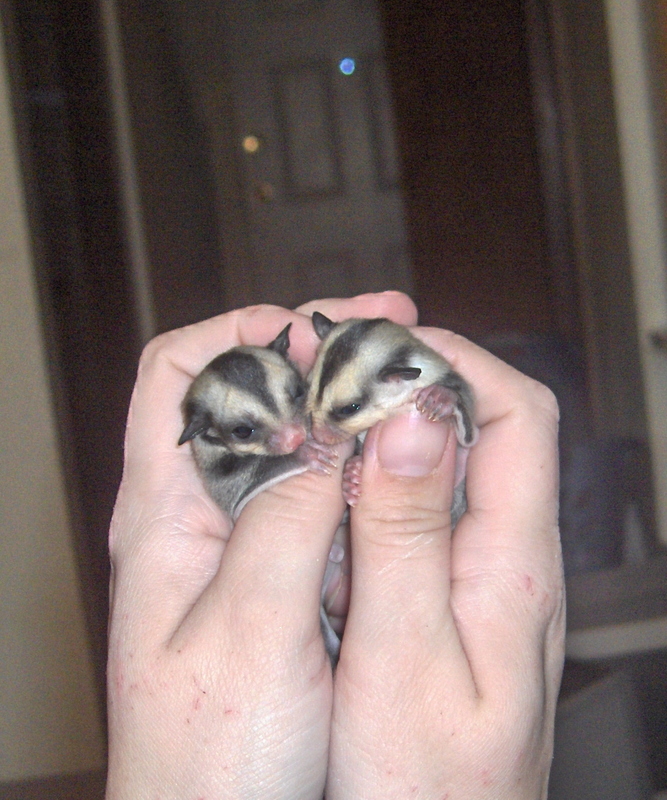 This Joey is still not fully OOP (out of pouch)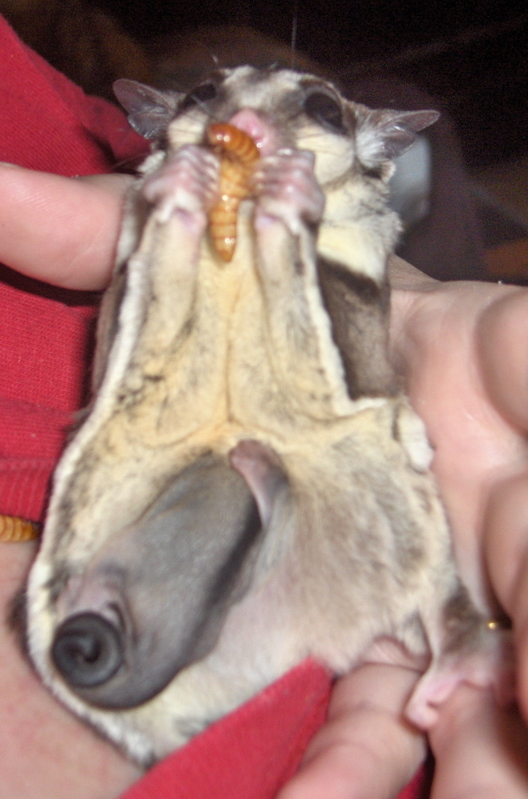 it was 3 more days before she was OOP
If you have a joey in pouch you can start to see joey parts poking out of the pouch a couple weeks to days before the joeys will make their full appearance. Usually a tiny tail will peek out, and then a hand or foot. We love to play with their tiny little toes even before the joey is born. No matter how curious you are, NEVER LOOK INTO OR REACH INTO A GLIDERS POUCH! YOU COULD CAUSE SERIOUS INFECTION OR DEATH!
The Glider Mama will give us the next clue that she is ready to show us their new joeys when they sing. We use the term OOP or "out of pouch" to let people know we are referring to the date the joey was actually out of the pouch. A joey needs to be with its parents for several weeks before weaning, but we handle our joeys even before they are out of pouch. This is because of the trust and the bond I have with Mama Glider. She will often let me babysit her joeys while she plays and eats.
Jack with eyes still closed 2 days OOP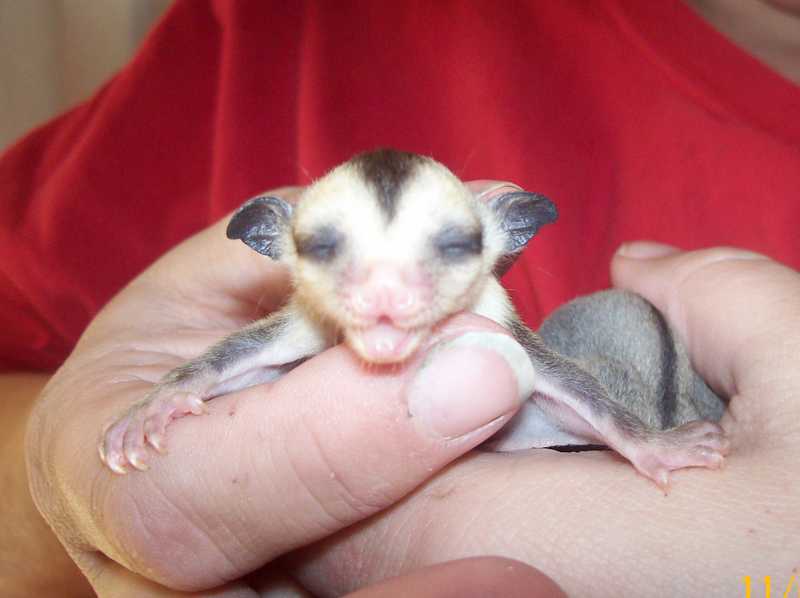 He is crying for his Mama
6 days out of pouch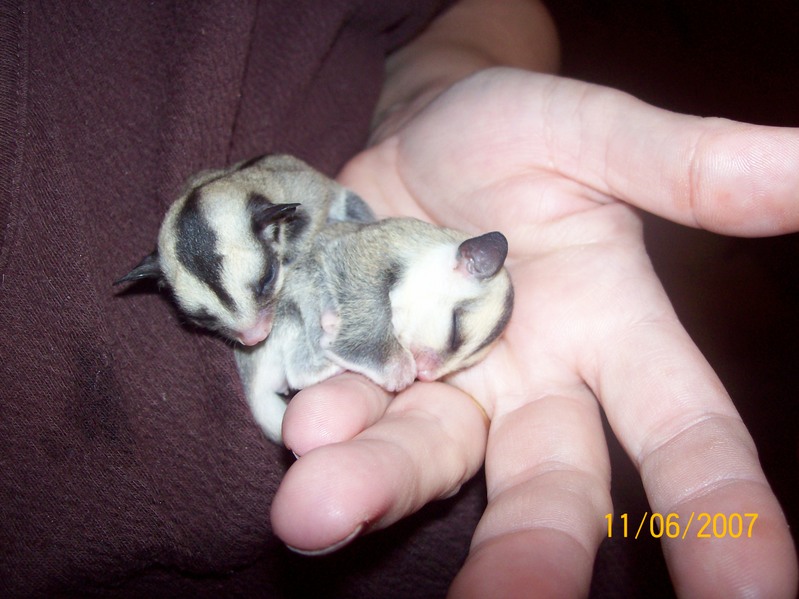 Here at 6 days OOP these joeys weigh 20 grams and 22 grams.These joeys eyes are open, but they are comefortable enough with us to relax and sleep. AT this age they arent away from Mom and Dad too long, and I usually hold Mom and Joeys together. Daddy is very watchful over them and will snuggle and cuddle with them.
17 days OOP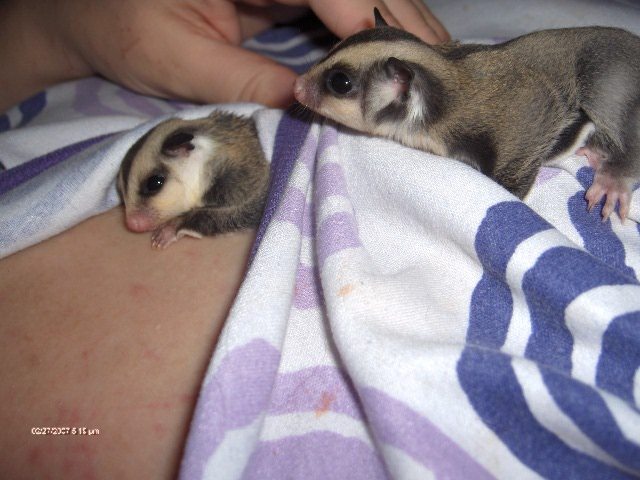 FATHERLY LOVE
Sugar Glider Dads can join the list of the best animal Dads right along with the Penguin and the Sea Horse. Glider Daddys are involved often from the first moment, and have been known to help lick the path and get the joey to the pouch safely. Cinnabon brings Savannah food while she has joeys in pouch and when she is nursing. He will then carefully snuggle with the joeys when they are oborn, and I have seen him use his hands so carefully when he handles his joeys that he wont close his hands so his nails dont contact his joey. He will babysit while his partner goes out for food and playtime. The bond between families is amazing to see, and when the joey calls out, I notice Daddy answers back first every time.



ASH watching over his joeys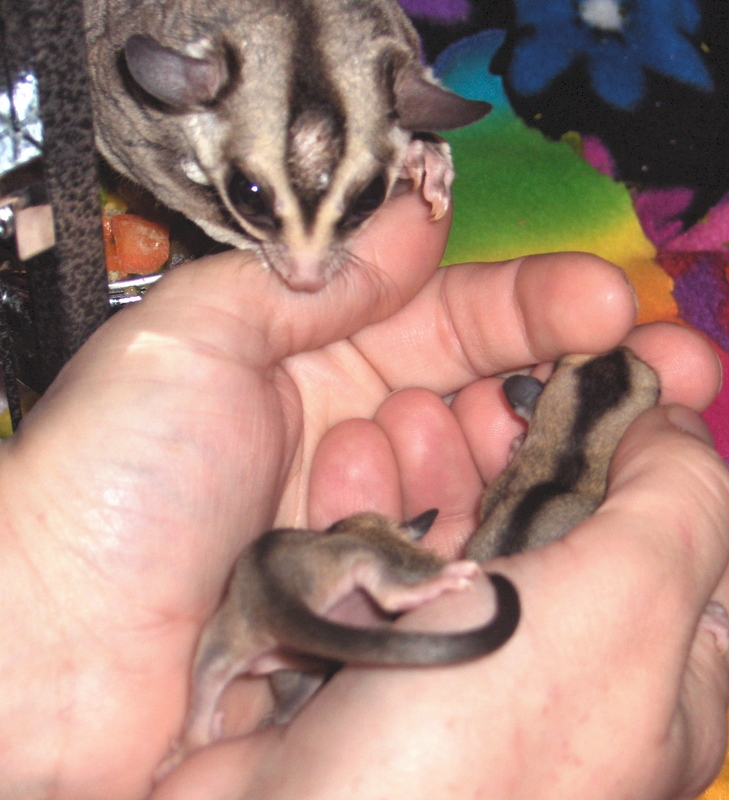 Jack and Sally